This new service connects regional Sound Transit trains with Sumner industrial businesses, providing the link needed to move employees efficiently to and from work by mass transit.
How It Works
Businesses in Sumner's Manufacturing Industrial Center sign up by contacting Bobby Lauterjung at bobby@busup.com.
Once their business is on board, employees sign up to ride the Connector by going to https://sumner.busup.com and creating a profile. Once they are signed up, they can book their first rides from the website on desktop or via their phone web browser.
Similar to other ride-share programs, employees have the option to download the BusUp app and create an account to reserve their ride as needed. If employees are uncomfortable using an app, they can continue to book their rides directly from the Sumner Commuter Connector website.
The Connector meets Sounder trains at the appointed times. If a train is delayed not to worry, the bus picks up riders at Sumner Station every 20-minutes so riders can simply catch the next bus. If neither Southbound or Northbound trains have arrived before the shuttle's departure time, the bus will wait the extra few minutes until the train arrives to the station, allowing passengers time to get on. The Connector then drops employees off at their worksite and brings them back to the station again when it is time to return home.
Initial Schedule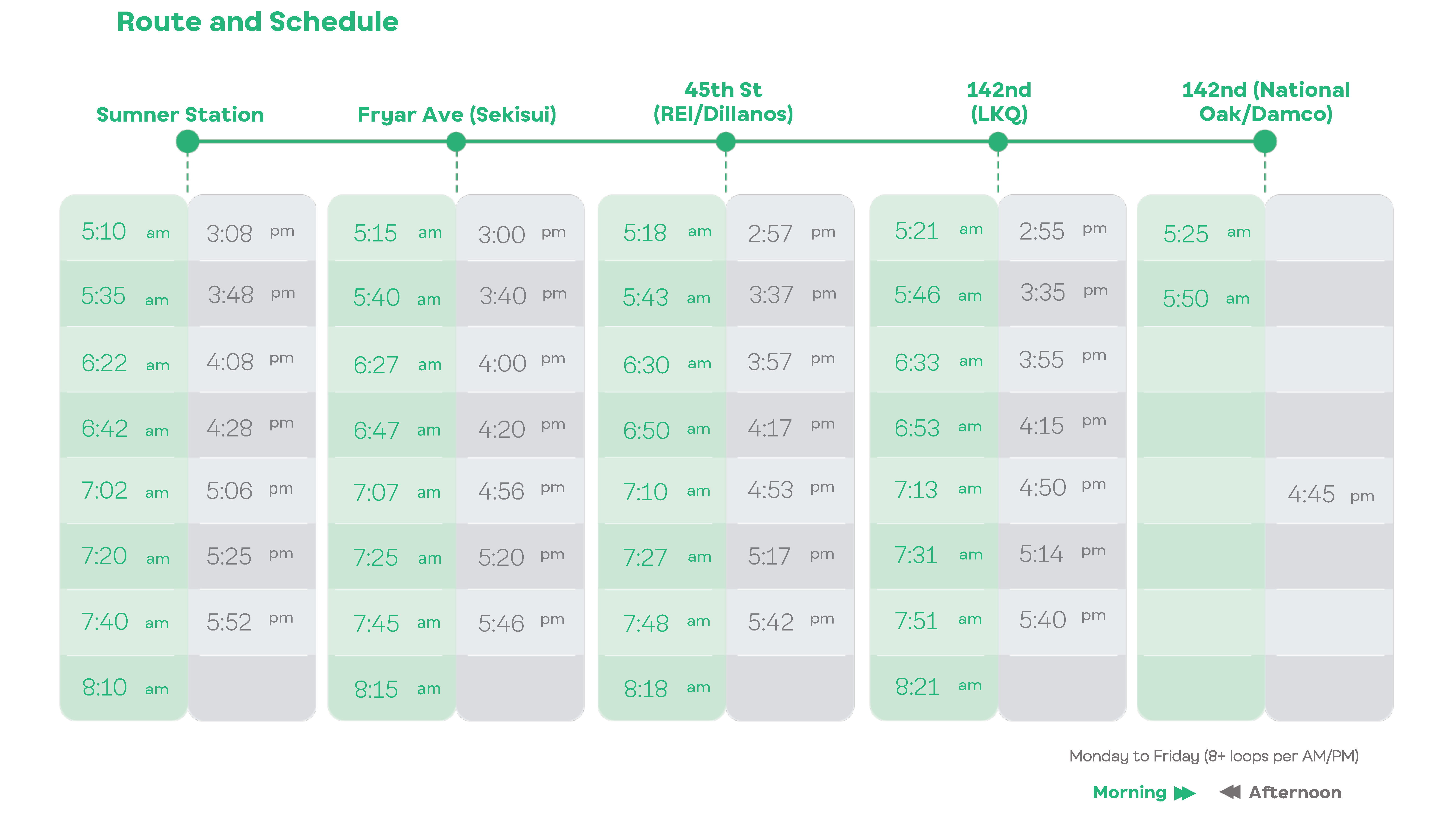 Costs
There is no cost to employers who choose to participate in the program as the City of Sumner has funded the service to make participating simple and cost-effective. That said, The cost to ride the Commuter Connector is $6 per ride, which participating employers can optionally help subsidize to make riding the bus more affordable for their employees. For example, one company may prefer to subsidize half (50%) of the $6 per ride cost which would mean their worker would pay $3 and the employer would pay $3. Another employer may choose to fully cover the cost as a benefit to their employees, in which case the ride would be free to the worker.
In addition, many employers offer their workers the ability to set aside up to $300/month, pre-tax in an account that is dedicated to commute-related expenses. Commuter Connection is also eligible for workers to utilize these pre-tax funds towards the fare in order to save themselves money.
Employers who pay (fully or partially) for their workers will receive monthly invoices.
Payments from workers who ride are processed via www.Sumner.BusUp.com (available on desktop or mobile) or via the BusUp mobile app. Note: a rider must first set up an account on internet browser and purchase their first ticket before being able to access their account in the BusUp mobile app.
What Sumner companies are exploring this service already?
Sekisui
REI
Dillanos
LKQ
National Oak
Damco
Is this service ADA accessible?
Yes, it is.
Why Sumner businesses should sign-up as soon as possible.
This is a new service, so businesses may not have access to service immediately. BusUp does not want to "oversell" space available. However, it's still important to contact Bobby Lauterjung at bobby@busup.com as soon as possible to get your business on the list: by doing so, BusUp will know how much expansion is needed, and the City of Sumner will have an accurate idea if this service is viable into the future or not. And, you'll be next in line when service expands to get your employees connected for easy access to transit.
Info for Employees Working at Sumner Businesses
If you don't see your business participating, let them know you would like this service. Again, this is not transit service, so you need to get your company on board in order to literally board the bus.
Who operates this service?
The City of Sumner contracted with BusUp to provide this connection. BusUp operates similar services throughout the world, starting in Spain, and contracts with other private employers in Seattle to provide similar shuttle services. This is the first contract with a city in the United States.
Why is the City of Sumner trying this service?
Traffic congestion throughout Sumner is our residents' top concern. The best way to alleviate congestion is to reduce the number of vehicles on our roads, especially at peak commute times. For each person who rides this bus, that's one less vehicle in front of you through Sumner. Plus, Sumner businesses routinely tell us that their greatest challenge to recruiting staff is easy access to their companies. This service should help alleviate both issues.
How long will this service last?
That depends on whether it gets used. This is the important test phase. If it is popular, the businesses using it will replace the City's initial investment and provide a sustainable funding model for service to continue and grow. If it goes unused, there is no reason for the City to continue funding it, and it will not survive.