As with any crisis situation, coronavirus has brought out the best and worst in people. Here in Sumner, a lot of people are using flexibility, creativity and ingenuity to help each other out. Enjoy a few examples:
A Metered Response
We've been replacing meters all through the city for the past months. We left the hardest for last because you do have to interrupt water service in order to replace the meter. How were we going to tackle Main Street downtown? Guess what–it's done! Thank you to our Public Works crew of Josh Keller, Hunter Hoberg, Beau LaCrosse and Meter Tech Joe McKinney for figuring out how to time his work right to get 'er done with minimal (further) impact.
---
McConkey's Masks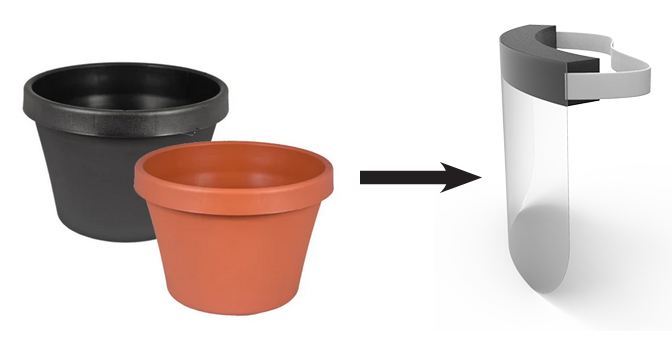 You may not know about McConkey, a 56-year-old family company in Sumner that makes the plastic pots you get when you buy annuals and vegetable starts. We received an email from them two weeks ago that they retooled their equipment to make plastic face-shields instead for medical staff and first-responders. If all goes well, they'll produce 100,000 masks each week to distribute. Our staff connected them to emergency coordinators in our region, and their masks have already gone to police departments in Tacoma, Gig Harbor, Orting and JBLM.
---
Penny's (Salsa) Produce
Did you know that Penny's Salsa was made right here in Sumner from fresh produce? They realized that they could box produce for people to pick up without having to go to a store. Click on this link to order and now pay online!
---
Mobile Poultry to the Rescue
Sumner Food Bank was struggling with items, like milk and eggs, that they usually obtain from stores. Community member Mariah Gordon connected the Food Bank to Tina & Kris Valencia. Kris runs a catering operation that was shutting down and wanted to donate the food they had. But, how to transport it to the Food Bank? Scott Robbert, who works at Puyallup-based EJ Poultry, scheduled a refrigerated truck and driver to transport the food to the Sumner Food Bank for distribution.
---
Senior Center Shines
Click here for pictures on the Senior Center page.
Closing the Senior Center was tough because we know it's mostly about connection there rather than solely about food or activities. We underestimated our partners. Keep in mind that director Jenny Simoneaux had been on the job about a week before we had to decide on the closure. Here's what they've been doing since.
Our partners at Catholic Community Services have been serving up hot meals that either get picked up or delivered. When they scheduled crepes, a community member brought by fresh strawberries! Each box has a message handwritten on it, and the staff were adding poems from other members, notes from children, games and puzzles.
They also write and send out notecards hand-crafted by one of the groups at the Senior Center. They dress up "crazy" to get a smile from seniors stopping by to pick up their lunch, and they're already preparing for Easter and Mother's Day special goodies.