Project Name: St. Andrew Catholic Church – Assembly Hall
Permit Application #: PLN-2019-0017
Location: 1401 Valley Avenue, Sumner WA
Parcel #: 0520192166
Description of Proposal: Construct new 10,000 square-foot assembly hall north of the existing church, with new parking area, landscaping, stormwater facilities and utilities. Proposed expansion requires approval by the Hearings Examiner of a Conditional Use Permit for the use and a Variance Request for a reduction in the number of on-site parking stalls from required minimum of 119 stalls to 63 stalls.
Applicant: Catholic Archdiocese of Seattle, 710- 9TH Ave., Seattle, WA
Lead Agency: City of Sumner
The lead agency for this proposal has determined that it does not have a probable significant adverse impact on the environment. An environmental impact statement (EIS) is not required under RCW 43.21C.030 (2)(c). This decision was made after review of a completed environmental checklist and other information on file with the lead agency. This information is available to the public on request.
Associated documents: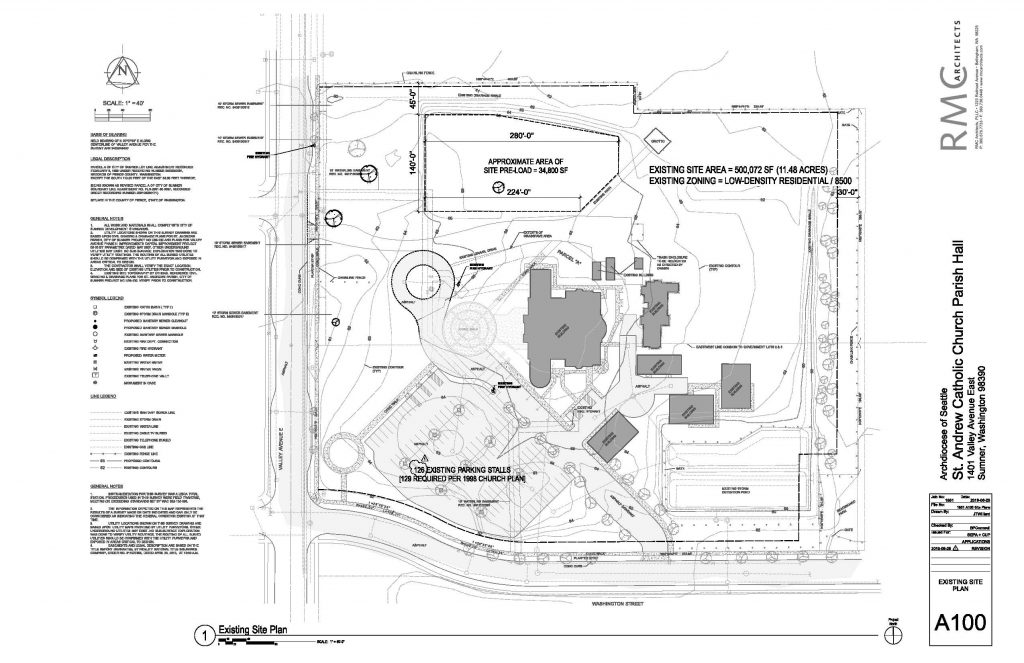 This DNS is issued under 197-11-340 (2); the lead agency will not act on this proposal for 14 days from the published date below.
Responsible Official: Ryan Windish
Position/Title: Community Development Director
Phone: (253) 299- 5524
Address: 1104 Maple Street Suite 250, Sumner, WA 98390
Date: October 24, 2019
Date Published: November 4, 2019
SEPA MITIGATION MEASURES:
Project Name: St. Andrew Catholic Church – Assembly Hall
Permit Application #: PLN-2019-0017
Location 1401 Valley Avenue, Sumner WA (Parcel(s) # 0520192166)
During the SEPA public comment period, no public comments were received. Agency comments on the project consisted of a letter from State Department of Ecology dated 10/1/19. The SEPA Official establishes the following SEPA mitigation measures for this project:
This project shall include the design and installation of street illumination as necessary to meet city standards along all frontages. Design and installation of the illumination system will be provided by Puget Sound Energy at the applicant's cost.
This project shall include a small right-of-way dedication at the northeast corner of the intersection of Valley Avenue and Washington Street. Currently, the parcel corner is nearly a 90 degree corner and after the dedication, the parcel lines will be concentric with, but 6" offset from, the back of sidewalk.
Prior to building permit issuance, the property shall have recorded title notification of the following hazard areas:
a. Aquifer recharge area;
b. Seismic hazard area;
c. Volcanic hazard area.To mitigate the impacts of noise, light and glare generated by the assembly hall use in a Low Density Residential area:
4. Street trees shall be installed along the property frontage along Valley Avenue, from the north property line southward to the existing church parking lot.  Credit may be given for viable existing trees along the west side of the property.
5. The new parking lot shall have perimeter landscaping on the west and north to screen cars and headlights.
For more information, contact the City of Sumner's Community Development Department at 253.299.5527