On April 29, Sumner joins other regional cities, including Puyallup and Orting, in a full-scale lahar evacuation exercise of students in the Sumner-Bonney Lake School District. This exercise is designed to test and improve the ability to evacuate or shelter students and staff in the event of an incoming lahar from Mount Rainier. The drill is only for schools, not the general public or surrounding residences. It will be the largest full-scale evacuation exercise in the country.
If you have students in school, watch for further details from the Sumner-Bonney Lake School District. If you live in the community, please expect rolling road closures. Please avoid driving in east Sumner, especially Main Street and Valley Avenue, on April 29 during 8:45-10:30 am. See the map below for specific road closures. Their impact will be brief but definitely affect normal routes in Sumner.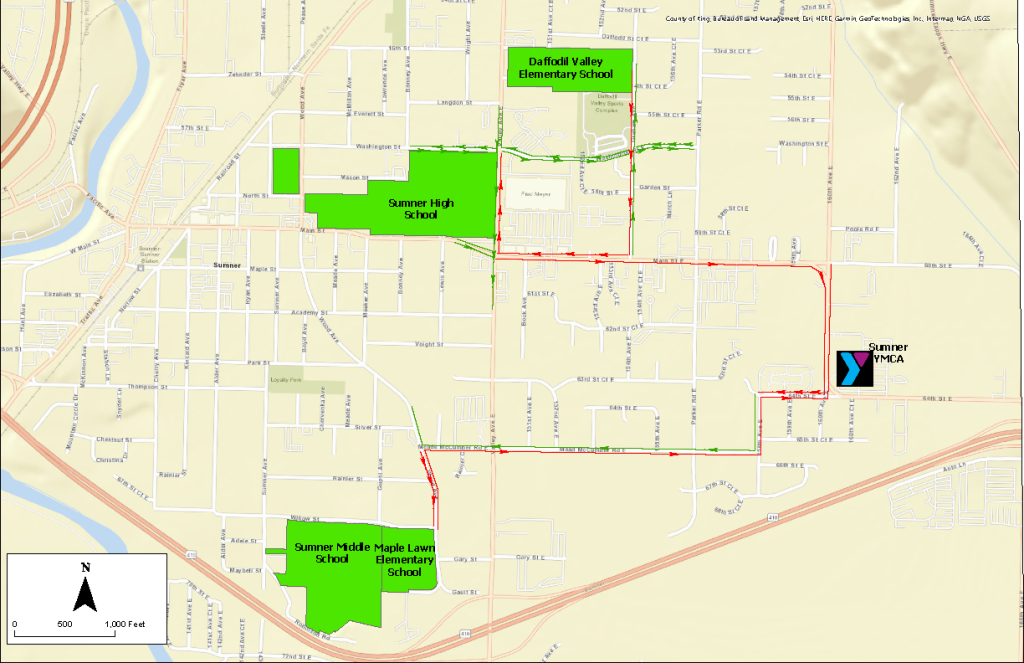 In a real lahar, how would I evacuate?
The general rule is to go up in elevation as quickly as you can. To prepare, use the button below for an interactive map. Click anywhere in Sumner (or the region) and see the arrows showing the recommended evacuation route. The green boxes show gathering areas once you have evacuated.
If a lahar does happen, how will I know?
Time will be of the essence, so know the multiple ways to realize quickly there's a real lahar.
The lahar sirens will alert you if you are outside. They are tested monthly on the first Monday of the month at noon with a test chime/voice setting. In a real emergency, they will use the full wail. Please note: the siren will not sound with this drill as it is only a drill. Familiarize yourself with how that sounds with this video.
Many agencies and public information outlets will help spread the word. Here are some ways in advance to make sure you're alerted as quickly as possible:

Follow us on social media but remember, we're evacuating too. Also follow major local news outlets and State/regional jurisdictions (Pierce County, WSDOT, etc.) for accurate information quickly.
What are some things I can do to be prepared?
Here are some tips to prepare for a lahar. Many of these tips and preparedness efforts will also help you plan for any kind of emergency including an earthquake, wildfire, flood or train derailment.
Make a Plan – Identify the evacuation route nearest your home and make a plan for how you are going to evacuate. Write down a list of family members and their contact information, and create an action plan that answers some questions including "What escape routes are in my home?" "If separated, what is our meeting place?" "If I cannot return home, where do I go?"
Have an Emergency Kit – Make sure it includes such things as an N95 mask, first aid, water, food, flashlight, blanket, cell phone charger, change of warm clothes, and other items. Know where it is and keep it refreshed periodically.
Communicate – Have a list of your immediate friends and family members' phone numbers available. Make sure to establish regular contact with them before, during, and after an emergency.
Sign up for alerts – You can sign up for alerts through our brand-new alert system, called Alert Sumner. We will have more information on this system soon.