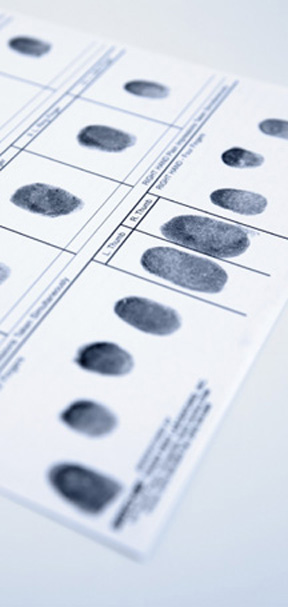 At this time, the Sumner Police Department provides fingerprinting services by appointment only for anyone who lives within the City of Sumner or works for businesses within the City of Sumner.
Alternate Fingerprinting Locations
If you do not live or work in Sumner or need alternate scheduling options, these alternate locations may be able to assist you with fingerprinting:
South Sound 911 (Pierce County Sheriff's Office) – (253) 798-7441
Washington State Patrol Identification Section – (360) 534-2000
Washington Office of the Superintendent of Public Instruction (school district applicants) – (360) 725-6135
Scheduling with Sumner PD
If you do live or work in Sumner, you can schedule an appointment on Tuesdays in 10-minute slots from 12:30 – 1:20 pm. Call 253-863-6384 during business hours to schedule your appointment.
While the appointment helps reduce your wait time, unfortunately, it does not guarantee service.  Police work is unpredictable, and staff who were intending to conduct your fingerprinting may be called out to an emergency with little or no notice.  We realize you may be taking time off work or on a specific time-frame for your fingerprinting needs, so please be aware of this possibility. This possibility of cancellation may make an alternate location better fit your needs.  We try to minimize how often this happens, and should it happen to your appointment, we will reschedule  with you.
Fingerprint Cards and Submission
Fingerprint cards are typically provided by the employer or whomever is requesting your prints.  If you were not given card(s), check with your employer/requestor first as they may pre-fill information or have other requirements.  If you are unable to procure card(s), we can provide them for you.  The official FBI FD-258 "applicant" card is the only type of card that we are able to print for standard purposes.
Your fingerprints will be scanned electronically and then printed onto the card(s) and provided back to you.  You will need to fill out the rest of the information and submit the completed card to the appropriate agency or your employer.  We do not provide any electronic submissions except for concealed pistol licenses.
Concealed Pistol License (CPL) Fingerprinting
If you are applying for a CPL, you must pay before we can do your fingerprinting.  Make your payment with the Finance Department, just up the stairs from the Police station, and bring your receipt to your fingerprinting appointment.  As the Finance window closes at 5 pm, you'll want to make that payment in time even if you have a fingerprinting appointment scheduled after 5 pm.
Again, if Sumner's limited fingerprinting times do not work for you, you may also file your CPL application with the Pierce County Sheriff's Office, who conduct fingerprinting daily.  In this case, you would also pay through their office, not through Sumner.  Please note that should you change your mind about fingerprinting after making a payment, payments are non-refundable.
Fingerprint Room Rules and Restrictions
Children and pets, except for service animals, are not allowed to accompany you into the fingerprinting area or left unattended in the lobby.  Please make alternate arrangements in advance.
We are unable take prints if you have open wounds or bandages on your hands and/or fingers.
Please make sure that your hands are clean and dry.
If you are going to be late, please call 253-863-6384, so we can determine if we can still fit you in.
Contact Us
Sumner Police Department
1104 Maple Street, Suite 140, Sumner WA 98390
Business Line: 253-863-6384   Tip Line: 253-299-5678
Animal Control: 253-299-PETS (7387)
FAX:  253-299-5669