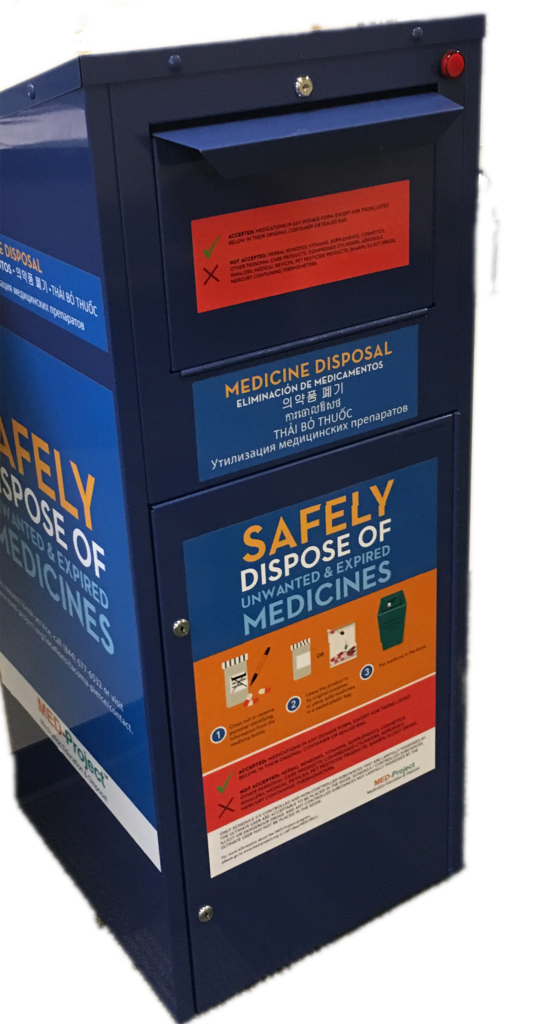 You can dispose of any left-over prescription medicine right at City Hall.  Look for the green bin (shown here) in the first-floor lobby, by the Police Department.  It's easy–just drop old medicine in similar to a postal box. No forms, no paperwork no fuss. Sorry, we can't accept needles or liquids.
This is the safe way to dispose of old medicine, keeping it from being misused or polluting the environment.
City Hall is open Monday – Friday 8 am-5 pm.
Helpful Hint: the bin is quite popular and fills quickly. Please help by consolidating pills and/or removing them from large containers and packaging as much as you can.
Don't live in Sumner?  There are many other similar bins available throughout Pierce County.  Click here to find one near you.
Contact Us
Sumner Police Department
1104 Maple Street, Suite 140, Sumner WA 98390
Business Line: 253-863-6384   Tip Line: 253-299-5678
Animal Control: 253-299-PETS (7387)
FAX:  253-299-5669