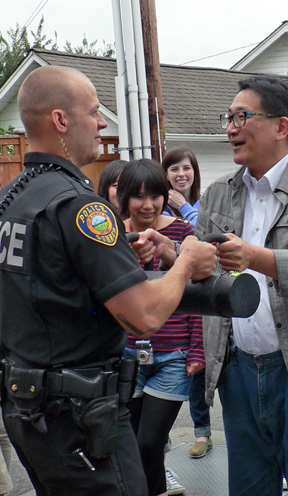 Investigations
Once crimes happen, Sumner strives for not only making an arrest but also a strong case for fair convictions.
Patrol & Traffic
Learn more about how officers keep Sumner safe, including Traffic Team, Parking Enforcement, Truck Enforcement and Metro SWAT.
School Resource Officer
A designated officer establishes life-long postive relationships with police among Sumner's students.
Chief for a Day
Sumner PD joins the Washington State Criminal Justice Training Commission in celebrating the lives of children who have been diagnosed with a life-threatening or chronic illness.
Animal Control
Sumner Police operate Metro Animal Services, which shelter, protects and unites animals in seven cities, including Sumner.
Records
Learn more about obtaining a police record.
Fingerprinting
How to schedule an appointment for concealed weapons permits, for Sumner School District employees, for anyone who lives within the City of Sumner or for businesses within the City of Sumner.
Police Auction
Find online resources.
Weapons Permit
Learn more about applying for a permit to possess a firearm.