The Challenge
The State Route 410/166th Avenue interchange is a congested mess. Originally built in the early 1970s, this interchange serves regional commuters cutting through Sumner to avoid the SR 167 congestion and thousands of vehicles trying to access busy commercial areas. Beyond the usual congestion found at so many regional interchanges/routes, the issue here is a completely unsafe intersection for drivers. as well as a complete lack of pedestrian facilities and a small, buried culvert that prevents fish from continuing to access habitat in Salmon Creek.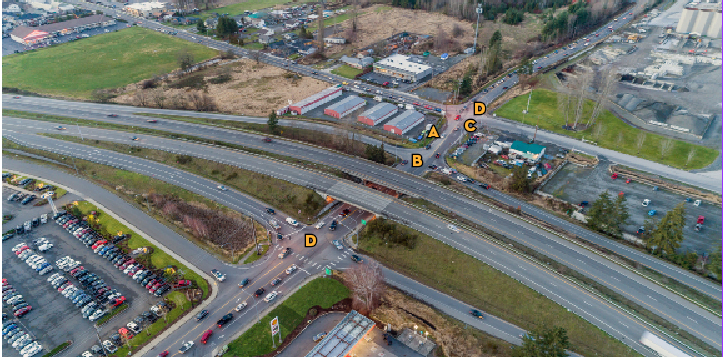 Solutions
A Widen the remaining two-lane stretch of 166th Avenue to eliminate the bottleneck just north of the existing SR410 interchange.
B Design and construct a signal at the existing stop-controlled SR410 Westbound on/off ramp.
C Replace an existing undersized culvert with a new fish-passage culvert to carry Salmon Creek across the existing intersection at 166th Avenue and 64th Street. Daylight a portion of stream channel to improve salmon habitat.
D Interconnect existing traffic signals together and with new signal (B) to reduce congestion and improve safety.
Drivers "Drive" Economic Growth
Although located in Sumner, this interchange also regularly serves residents of the Lake Tapps area, Lakeland Hills, Auburn, Bonney Lake, Orting and Tehaleh. It leads to one of the main routes off the hill to the north and serves as the favorite "alternate" to the Orting Highway (SR 162) parking lot.
It also provides the key access point for businesses like Winco, Sunset Ford and the newly built Gordon Family YMCA. For comparison, Sumner has a population of 10,000 while the YMCA has a membership base of 21,000, plus programs like Teen Late Night that don't require membership.
There is also growth potential for this area, building around the popularity of the regional YMCA. Sumner's East Neighborhood Plan, originally adopted in 2001, envisions a mixed use "urban village" that complements and supports our historic downtown. The plan was updated in 2015 to include the new regional YMCA. However, the lack of safe access to the area from regional freeways stifles commerce and growth opportunities in this local center.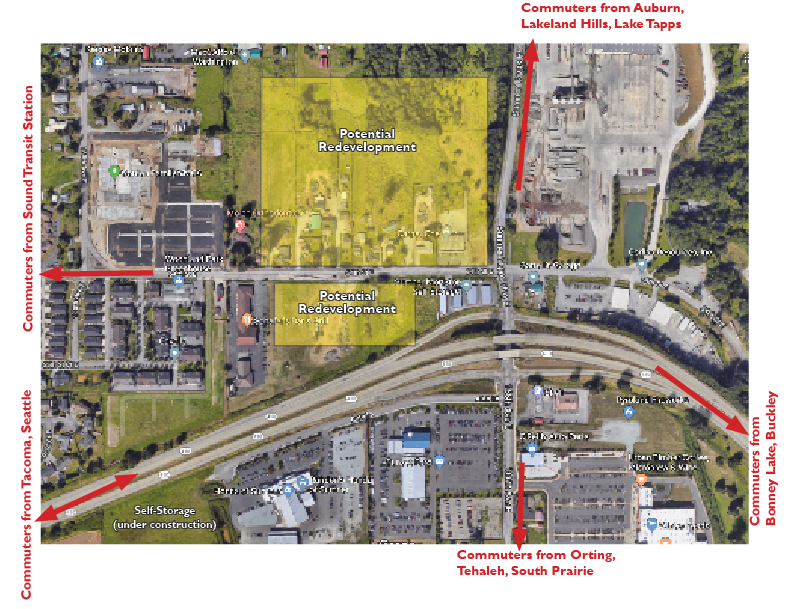 Moving Forward
Planning (2019) $150,000 funded – City of Sumner
Design, ROW & permitting (2020-2021) est. $2.5 million
Construction (2021-2023) $7 million
$2.5 million within WSDOT Right-of-way
$4.5 milion outside wsdot right-of-way
What You Will Accomplish
Improve capacity & safety on State highway system
Fix a series of intersections that together create a terrifying route for vehicles and a missing link for bicycles and pedestrians.
Provide a timely and cost-effective, "practical design" alternative to the much overcrowded SR 162 (Orting Highway) and SR 167 through Sumner, both of which will require long-term, major solutions. This solution will be led by City of Sumner, known for leveraging grant funds and producing successful projects that benefit the region.
Thriving Regional Economy
The opening of the Gordon Family YMCA, the largest such facility in Washington State, eclipsed all use projections. YMCA leadership expected to reach 20,000 members within five years and instead hit the milestone within 10 months. Yet, members are finding it difficult to access the facility and worse, commuters are using the Y's parking lot as a cut-through since traffic on the Sumner-Tapps Highway, on 166th Avenue and 64th Street E is all at a standstill thanks to this one bottleneck.
The East Sumner Neighborhood Plan uses the popularity and traffic for the regional YMCA to redevelop the area with businesses and mixed-use residential. Such redevelopment will bring more people within walkable range of the Y, but such development will not occur if the bottleneck at SR410 is not fixed.