The State of Washington's Department of Archaeology & Historic Preservation awarded the Sumner Cemetery with an $18,000 grant to replace the roof on the Chapel Mausoleum. Built in 1971, this flat-roof, concrete building holds indoor and outdoor crypts, as well as glass front and bronze niches inside.  The inside chapel area is 726 sq. ft. and is used as a gathering place for an interment service for both an inside or outside placement.
While the architecture evokes the clean, modern lines of the 1960s/1970s, a flat roof does not do well in western Washington's damp climate.  This project will not only repair the roof but also alter its lines for longer sustainability into the future. As with any structure, roof issues can compromise the entire building.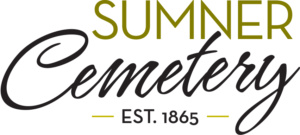 The grant awarded is a Historic Cemetery Preservation Capital Grant. We would like to thank the Department of Archaeology & Historic Preservation, the Historic Cemetery Advisory Committee and the Washington Trust for Historic Preservation for their support in our efforts to continually improve our historic Sumner Cemetery.