This is a place where history still matters, but dreams for tomorrow are fueled. Where creativity is ignited, craftmanship is celebrated, and innovation is born.​
What makes Sumner stand out? We're in this for the long-haul. We offer quality service from the moment you arrive to every day success, year after year. If you call Sumner home, you receive the following benefits:
RIGHT AWAY
Low Transportation Impact Fees
Personal service with permitting
Form-based code (Town Center)
Affordable Housing tax abatement option (Town Center)
Broadband/fiber access (varies by location)
ONGOING
No Business & Occupation tax
Low utility taxes
Low City property tax rates
Lower sales tax rate than adjacent cities
Award-winning service
Millions invested in reducing traffic congestion
Accredited, distinguished Police department
Pre-treatment Coordinator to help you stay green
A Perfect Fit for Your Business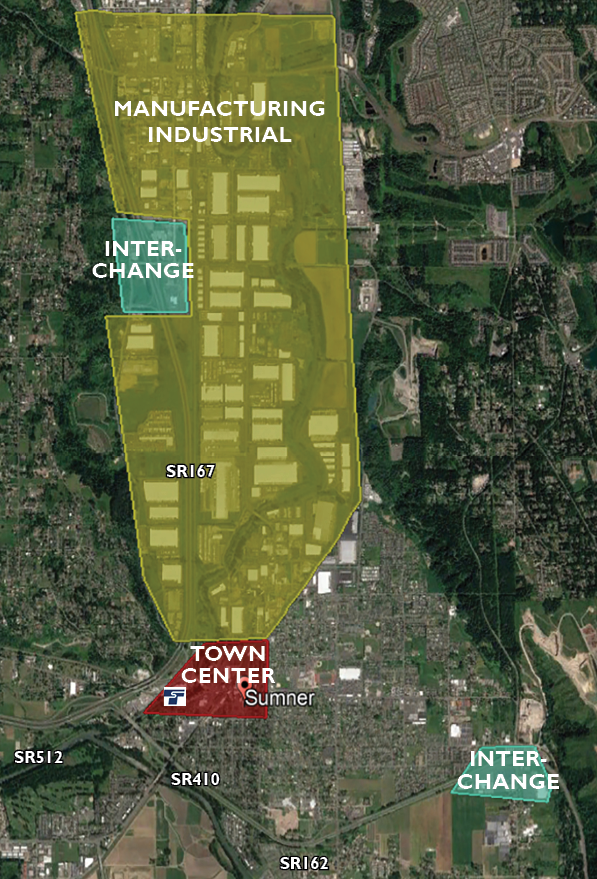 MANUFACTURING INDUSTRIAL CENTER
The largest manufacturing job center in Pierce County offers quality infrastructure, repaved 24th St & 142nd Ave and an interchange with SR 167. Already home to over 14,000 jobs that range from aerospace to coffee roasting, this area has room for further growth and another estimated 12,000 jobs.
INTERCHANGE ZONES
Thousands of vehicles pass by these highly visible interchanges each day. Available space adjacent to hotels, car dealerships and a grocery store offer ideal opportunities for transit-oriented retail and services.
TOWN CENTER
Bring your new retail or service to an established, celebrated Main Street. Home to parades, festivals and celebrated by Sunset Magazine, PBS and Seattle Magazine, Sumner's classic downtown is walkable and charming with room for growth, featuring form-based code, and lots available adjacent to the Sound Transit station with direct links to Seattle and Tacoma by bus or train.
Partners & Other Resources
What People Are Saying About Sumner
A Taste of Success
This is just a sampling of the local and international businesses that have already found success doing business in Sumner.