Property Tax Rate
City portion is 8% of your property tax bill. Link to the Pierce County Assessor-Treasurer for information about your property.
In general, here's where the rest of your property tax bill goes: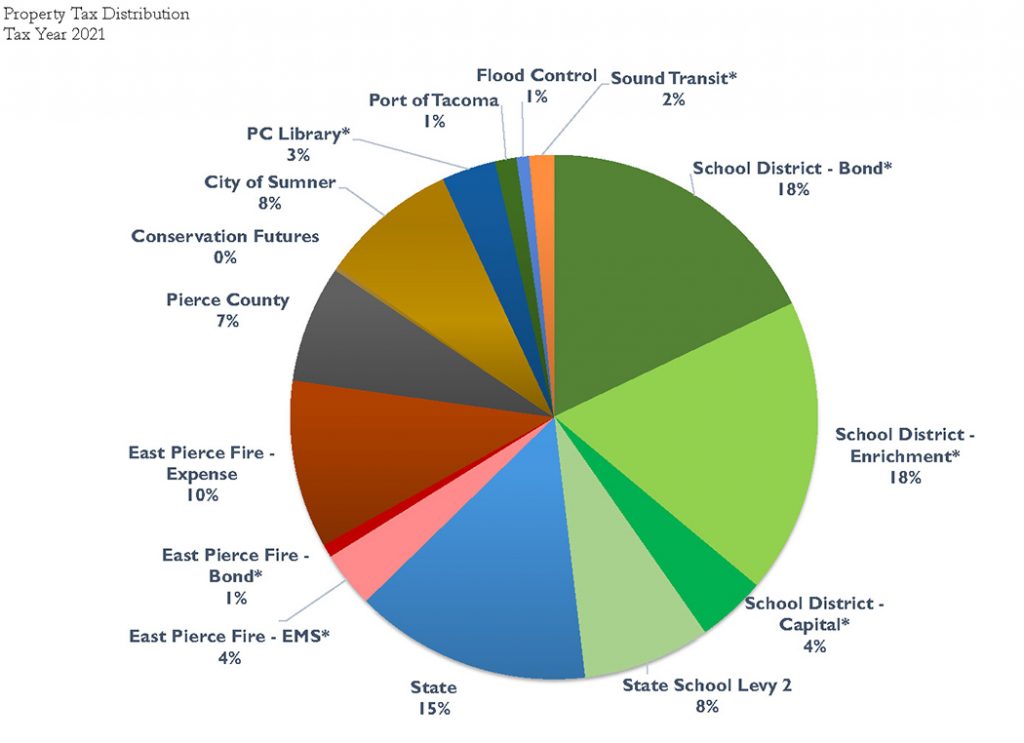 Sales Tax Rate
2.3% (local portion) + 0.5% (Sound Transit RTA) + 6.5% (state portion) = total sales tax rate 9.3% paid by shoppers on non-food items purchased. The State of Washington has a sales tax look-up app. Click here for more information
Business & Occupation (B&O)Tax
Sumner does not have a B&O tax over and above the State tax.
Utility Fund Tax
6% paid by utility customers on their water-sewer utility, the refuse utility, and the storm sewer utility
Commercial Parking
15% gross proceeds any business charging for commercial parking
Lodging Tax
5% for facilities with 26 rooms or more/2% for facilities with 25 rooms or less goes to Pierce County for allocation to support tourism plus a 2% occupancy tax that goes to City of Sumner to support tourism and $0.50 per room night collected for Pierce County's Tourism Promotion Area
paid by guests of the hotel on their room bill
Gambling
Bingo and raffles 5% of gross receipts (except charities holding one event per year and earning less than $10,000); punchboards and pull tabs 5% of gross receipts; paid by business offering gambling at their establishment/event
Real Estate Excise Tax
0.25% of selling price paid by property owners to the Pierce County Treasurer at closing
Other State Taxes
Get more information from the Washington State Department of Revenue