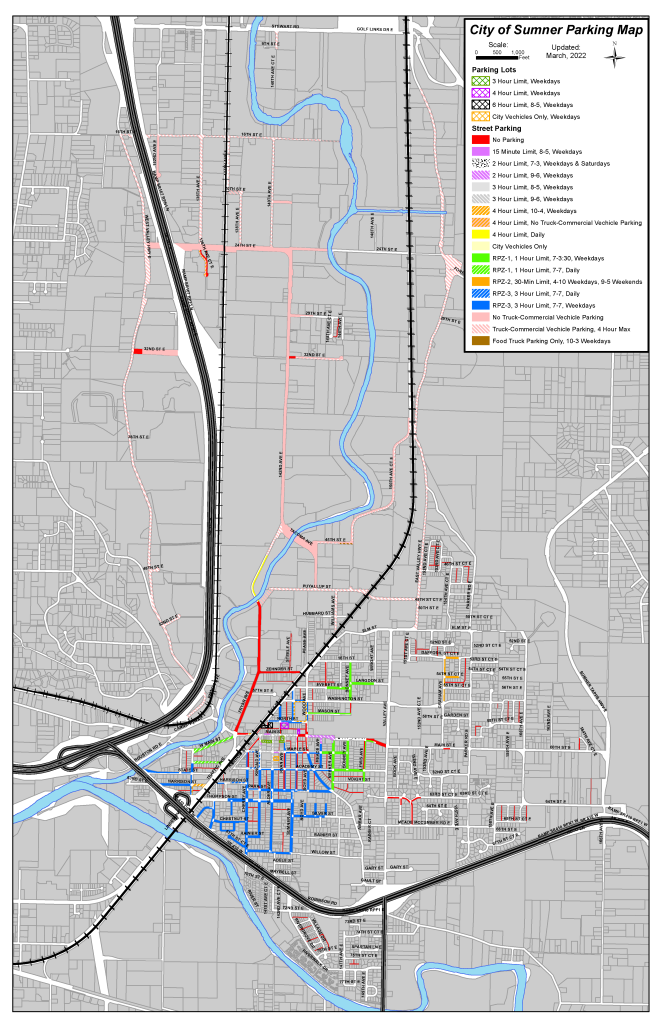 Residential Parking
Standard parking rules apply throughout Sumner. For example, you can't park a truck longer than 22 feet or an RV of 24,000 pounds or more on residential streets. You can't park in any alley or fire lane. For the full list of parking rules, please check Sumner Municipal Code 10.36, also available online.
In addition, some residential neighborhoods near high-traffic areas like the Sound Transit station and the high school have Restricted Parking Zones (RPZ) in order to keep street parking available for those residents. Find out more information about RPZs and how to get/manage your passes if you live in that zone.
Business Parking
The City has a number of public parking lots both north and south of Main Street in the historic Downtown area. There are no meters but street parking and lots each have posted time restrictions. They do vary in order to support both customers needing quick access to stores and restaurants and those needing more time. Please select the location that best serves your need and observe posted time restrictions.
Commuter Parking
With a regional transit station, a number of commuters want to park in Sumner, especially close to the station. There are a number of options but please note that high demand often has these options full.
Sound Transit offers a surface lot of open stalls at the station, but parking is very limited. Sound Transit is building a parking garage on this location, and the City of Sumner is encouraging the garage, supporting the effort by working on the SR 410/Traffic Avenue interchange to provide access and considering changes to the height restrictions in order to allow a taller garage (= more spaces). Check with Sound Transit for timelines and details about this project.
There is a "Kiss & Ride" available on Traffic Avenue. More common on the East Coast, this is a pull-out area on the side of the road where commuters can be safely dropped off and picked up by others.
The Bonney Lake Park & Ride offers more open parking stalls with the Sound Transit 596 bus offering shuttle service to the Sumner Station.
The Sumner Link Trail now extends north to south and runs past the station, offering safe options for biking to the station. In addition, the City of Sumner is replacing the Bridge Street bridge and fundraising to add a second bridge across SR 410 at Traffic Avenue, both offering separated routes for walking/biking.