Similar to the more well-known Federal government structure, Sumner's government is divided into three branches:
The Mayor is elected directly by the people, known as a "strong mayor" form of government, and oversees the executive branch of government, similar to how the President oversees all Federal departments. Sumner has a part-time mayor who employs a City Administrator to run day-to-day operations.
The City Council is the legislative, or policy branch of government. Seven members are elected at-large to represent Sumner citizens and set broad policy decisions.
Municipal Court is the judicial branch of government and oversees Sumner's court of limited jurisdiction.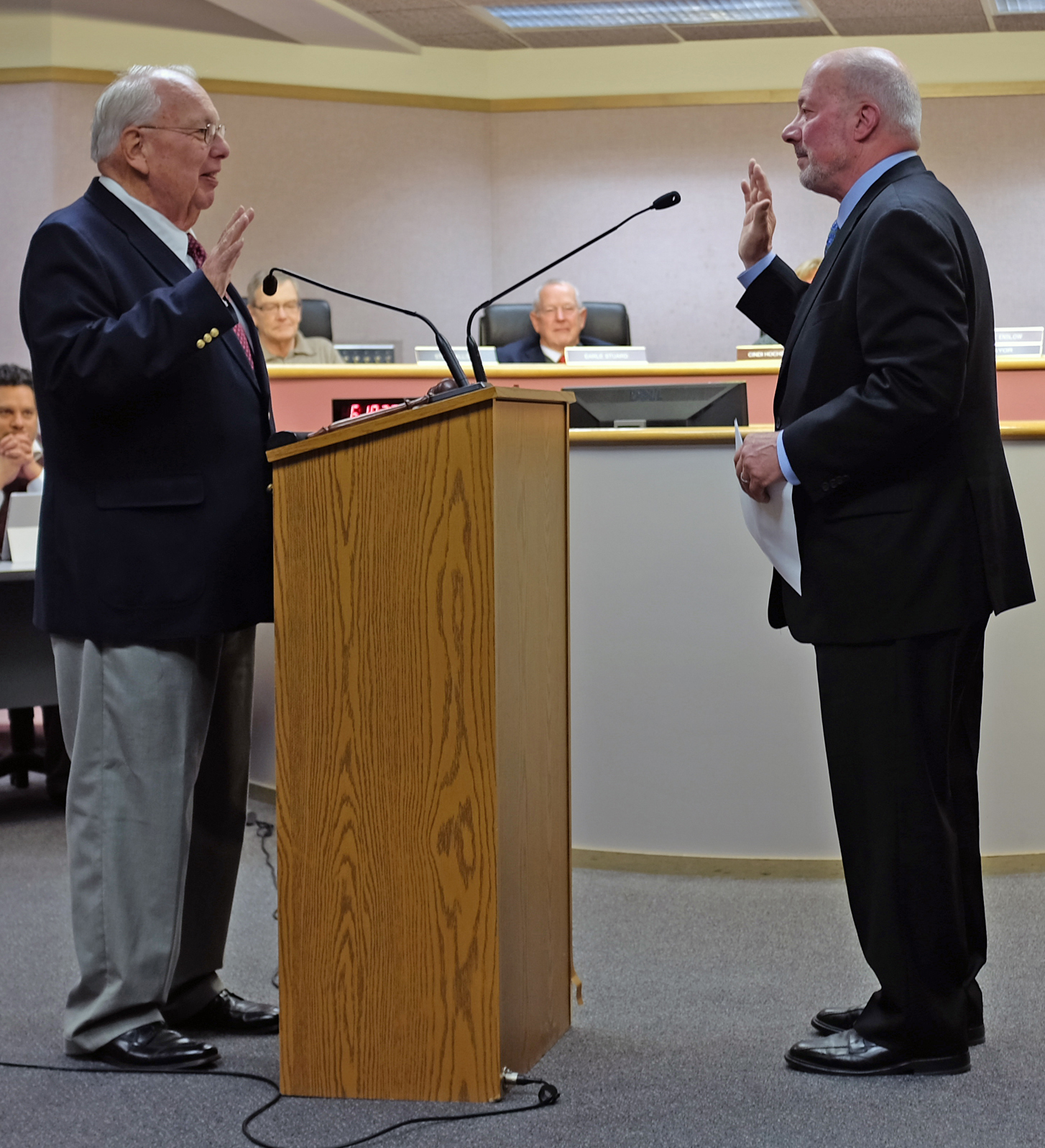 Mayor Bill Pugh was elected in November 2017 and is serving a four-year term through 2021. Mayor Pugh came to Sumner in 2008 to serve as its public works director. He had just retired from a full career in City of Tacoma as public works director and assistant city manager. He planned to spend about three years in Sumner.
Instead, he fell in love with the city staff and the community. His planned-for three years turned into ten; he moved here, and he met and married his wife Karen here. He joined Sumner Rotary, serving for a year as its president; he serves on the Advisory Board for Sumner's Gordon Family YMCA, and he's helped raise money for the City's Relay for Life team, helped build Sumner's Daffodil Float, and raised awareness and funds for Exodus Housing by literally jumping into Lake Tapps in November.
Contact Us
Mayor Bill Pugh
mayorbill@sumnerwa.gov
253-299-5590 (office of City Clerk)
Sumner's Councilmembers serve at large, which means all seven represent every citizen throughout the City.  Your thoughts do not have to be reserved for meetings only.  Contact your councilmembers to let them know what you're thinking about the future policy that guides Sumner.
Barbara Bitetto, term 2018-2021, bbitetto@sumnerwa.gov  253-299-5793
Curt Brown, term 2020-2023, cbrown@sumnerwa.gov, 253-299-5796
Josh Hamilton, term through 2021, jhamilton@sumnerwa.gov,  253-299-5791
Kathy Hayden, Deputy Mayor, term 2018-2021, khayden@sumnerwa.gov, 253-299-5792
Cindi Hochstatter, term 2020-2023, chochstatter@sumnerwa.gov, 253-299-5795
Charla Neuman, term 2020-2023, cneuman@sumnerwa.gov, 253-299-5797
Patrick Reed, term 2020-2023, preed@sumnerwa.gov, 253-299-5794
Councilmembers serve on committees to discuss topics extensively in advance of votes. The following councilmembers serve on these committees:
American Rescue Plan Act: Councilmembers Hayden, Hochstatter, Reed and alternate Bitetto
Community Development: Councilmembers Brown, Hayden, Hamilton and alternate Hochstatter
Finance:  Councilmembers Reed, Bitetto, Neuman and alternate Hochstatter
Public Safety: Councilmembers Bitetto, Brown, Hamilton and alternate Reed
Public Works: Councilmembers Hochstatter, Neuman, Brown and alternate Hayden
There are a number of ways to track and participate in the Council's meetings.
1. Items are discussed at length at Council Committee meetings or Study Sessions before being voted on later at a Council meeting. Track a topic earlier in the process for best input. Committee meetings and study sessions are open to the public to listen but don't contain comment periods.
Click here to check upcoming meetings on the calendar.
4. Speak up! At Council meetings, items under New Business will include a time for the public to comment. There are also formal public hearings for some items. And, use public comment to talk about anything not on the agenda. Items under Unfinished Business do not include a comment period because they already had a public hearing at a previously scheduled meeting.