The Sumner Link Trail offers the chance to experience the Valley along the White River including river views, wildlife and native vegetation as well as agriculture and industry. Linking to the Interurban Trail and Lakeland Hills Trail on the north and the Foothills Trail and Riverwalk Trail to the south, this is also a great commute option.
Trail Map

Download PDF flyer of Trail Map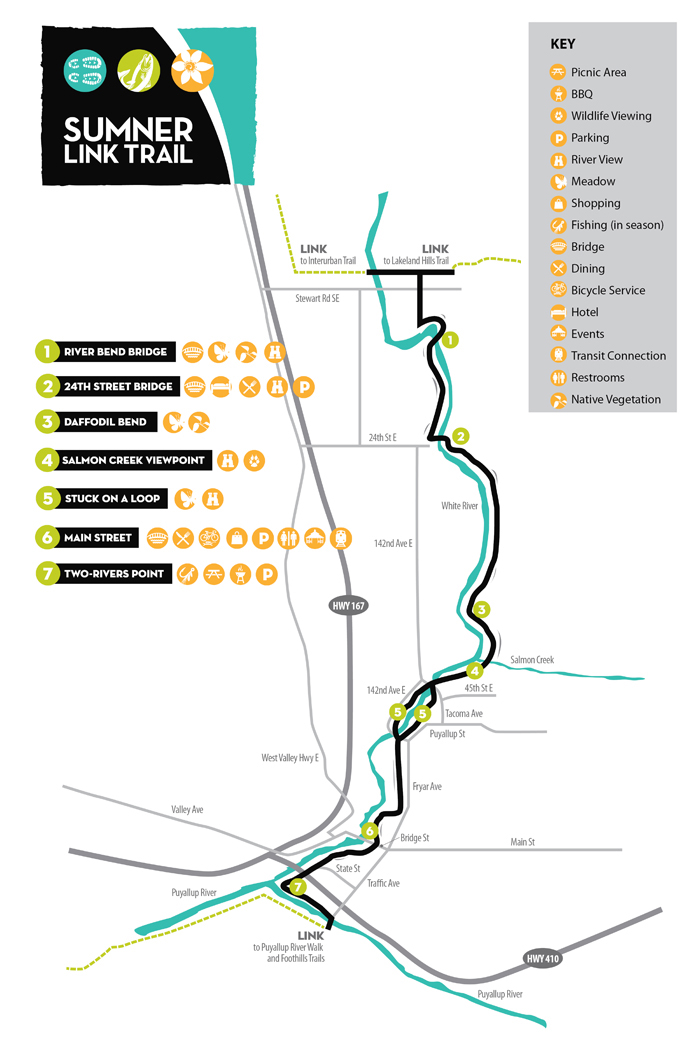 Directions & Details
There are many options to park throughout Sumner and enjoy different parts of the trail. They may be a bit difficult to find, so hopefully this guide helps you find and meet friends to enjoy the trail. All parking is at your own risk. Please remember to lock your vehicles and keep any valuables out of sight.
State Street Parking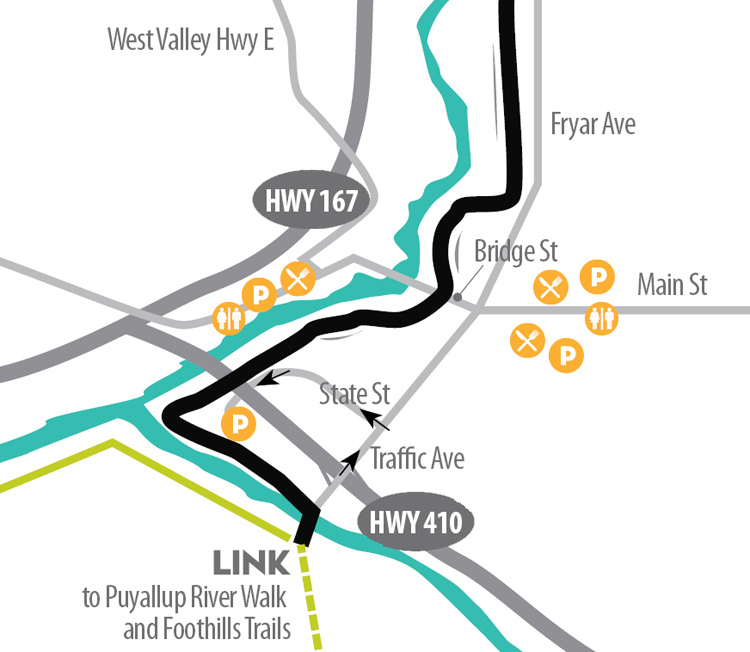 Mapping Address: 13114 63rd St E, Sumner WA 98390
This trailhead offers public parking and restrooms.
There are also several public parking lots in historic Downtown Sumner, accessed off Main Street.
16th Street/24th Street Parking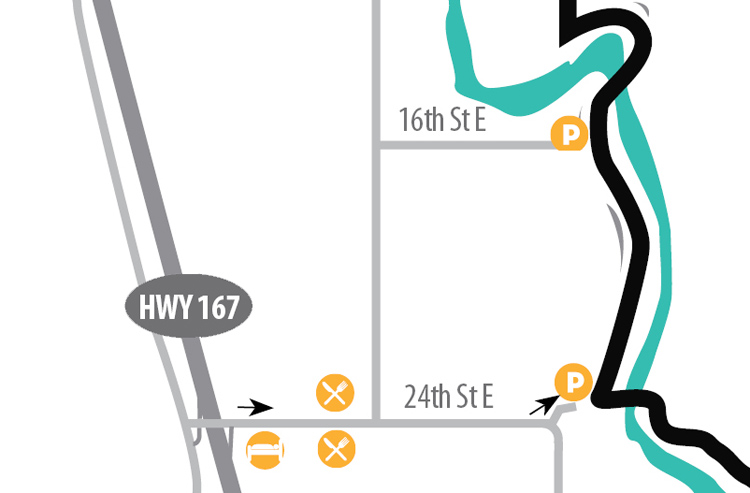 Mapping Address for 24th Street Turnaround: 14499 24th St E, Sumner WA 98390
Mapping Address for 16th Street Turnaround: 14286 16th St E, Sumner WA 98390
In both locations, street parking is available. No public restrooms at this location.
142nd Loop Parking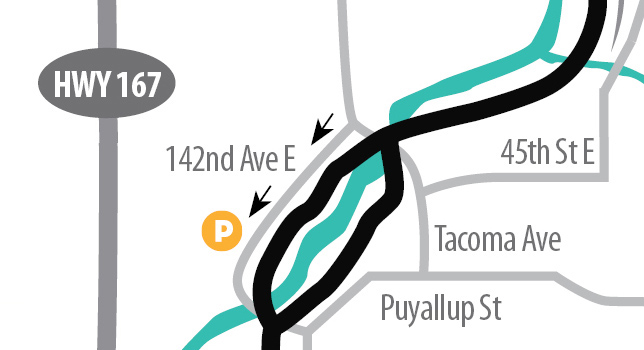 Mapping Address: 4720 142nd Avenue E, Sumner WA 98390
Please note: this portion of 142nd is a one-way only road heading south. To access, travel south on 142nd Ave from 24th Street and turn right just before the bridge to continue on 142nd. Or, if traveling north from Fryar Avenue, curve with the road to the right at Puyallup Street. Turn left onto Tacoma Avenue. Just after the bridge, turn left onto 142nd Avenue E. Street parking is available along the trail.
Fryar Avenue Parking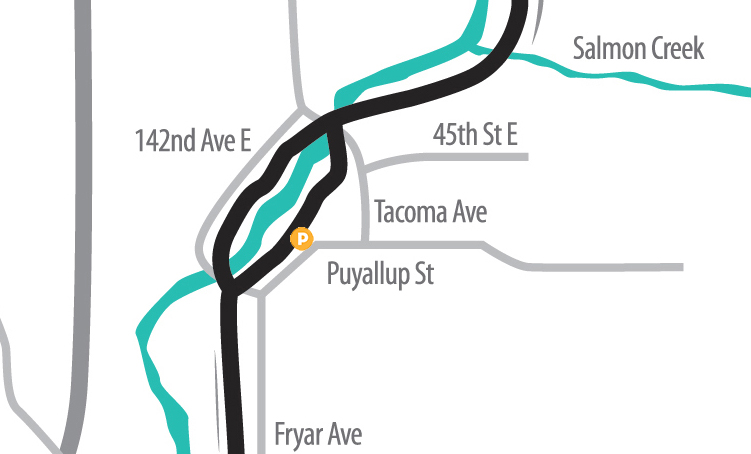 Mapping Address: 1235 Puyallup Street, Sumner WA 98390
Please note: just after Fryar Avenue turns into Puyallup Street, this small gravel lot is available on the west side of the road, adjacent to the trail.
Services: Restrooms
(See map above) Public restrooms are available during daylight hours at the State Street Trailhead and in Sumner's Historic Downtown at the corner of Main & Ryan, approximately four blocks east of the trail. Restrooms and the Sumner Visitor Center are also available across the Cannery Way Bridge inside The Old Cannery Furniture Warehouse.
Services: Lodging
The Sumner Holiday Inn Express & Suites and Candelwood Suites are located approximately five blocks west of the Sumner Loop Trail at 24th Street.
Services: Dining
Sumner offers a variety of dining and beverage options, mostly casual, primarily along Main Street, east of the trail. There are also some restaurants along 24th Street just west of the trail.
Services: Bicycle Repair/Supplies
The Bonney Lake Bicycle Shop of Sumner (yes, it's in Sumner) is approximately a quarter of a mile east of the Trail at the intersection of Main Street and Wood Avenue.
More Information