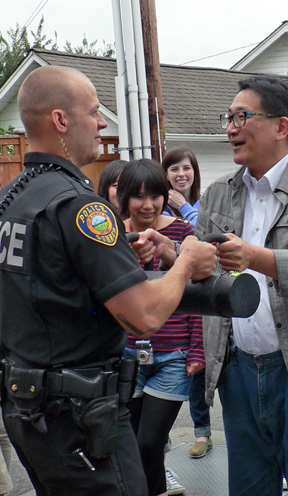 Investigations
Once crimes happen, Sumner strives for not only making an arrest but also a strong case for fair convictions.
Patrol & Traffic
Learn more about how officers keep Sumner safe, including Traffic Team, Parking Enforcement, Truck Enforcement and Metro SWAT.
School Resource Officer
A designated officer establishes life-long postive relationships with police among Sumner's students.
Chief for a Day
Sumner PD joins the Washington State Criminal Justice Training Commission in celebrating the lives of children who have been diagnosed with a life-threatening or chronic illness.
Animal Control
Sumner Police operate Metro Animal Services, which shelter, protects and unites animals in seven cities, including Sumner.
Police Records
Learn more about the Records Section of the police department, as well as how to obtain public records from the Sumner Police Department and Metro Animal Services.
Fingerprinting
Fingerprinting services are provided for concealed pistol licenses and certain other purposes.  Fingerprinting is only available to residents and businesses within the city limits.
Property Room and Police Auctions
Learn more about police auctions and our property/evidence section.
Concealed Pistol Licenses
Learn more about applying for a concealed pistol license (CPL).
Title VI Compliance
The Sumner Police Department gives public notice of its policy to uphold and assure full compliance with the non-discrimination requirements of Title VI of the Civil Rights Act of 1964 and related Nondiscrimination authorities.  Title VI and related Nondiscrimination authorities stipulate that no person in the United States of America shall on the grounds of race, color, national origin, sex, age, disability, income level or Limited English Proficiency be excluded from the participation in, be denied the benefits of, or be otherwise subjected to discrimination under any program or activity receiving Federal financial assistance.
Any person who desires more information regarding Sumner Police Department's Title VI Program can contact its Professional Standards Coordinator at the address noted below.
Any person who believes they have, individually or as a member of any specific class of persons, been subjected to discrimination on the basis of race, color, national origin, sex, age, disability, income level or Limited English Proficiency has the right to file a formal complaint.  Any such complaint must be in writing and submitted within 180 days following the date of the alleged occurrence to
Professional Standards/Title VI Program Coordinator
Bree Cowdrey/Sumner Police Department
1104 Maple Street Suite 140
Sumner, WA  98390
253-863-6384