How to Return to Online Utility Bill Pay
The vendor running this system is doing a two-part update of the system to fix a number of the challenges we've all experienced. However, to complete these updates, you're going to have to re-register twice—once now and once in a few months—to keep paying your bill online.
UPDATE 1
RE-REGISTER TO PAY BILLS NOW
     Unfortunately, you have to Sign Up again, rather than Sign In. No saved sign in credentials will work.
     You must use the same e-mail and password you used before.
     This time, the system immediately sends an email to your account from "Community Access Identity." Note: this function actually works now. Please verify your account. (Don't forget to check your junk mail folder.)
     You should be able to log back into the system, and your accounts should still be linked to your profile for continuing with payment as you have been doing the past few months.
NEW ALTERNATE LOG-IN OPTIONS
This update now gives you the option to sign-in using other accounts such as Facebook and Google. If you choose this option, it may make signing in easier, but you will have to link your accounts to your new profile once you're into the system.
Once you log in, enter the Account Settings page. Under Utility Billing, click "Link to an account." You will need your Account ID, Customer ID (CID) and Customer Name as it is presented on your paper utility bill. Be sure to enter personal names as LAST NAME, FIRST NAME. (More tips below on linking an account.)
Once you click "Submit," you should see the account linked to your customer page. Click on the number to go to the Account Summary Page where you can pay your bill and manage your preferences.
Keep in mind you can't change how you log-in from month to month. Once you choose an alternate log-in, that's how you'll have to access your online bill pay from now on.
If you use alternate accounts, such as Facebook and Google, and forget that password, we cannot help you reset those to regain access to your online bill pay account as your third-party accounts are out of our control and outside our system.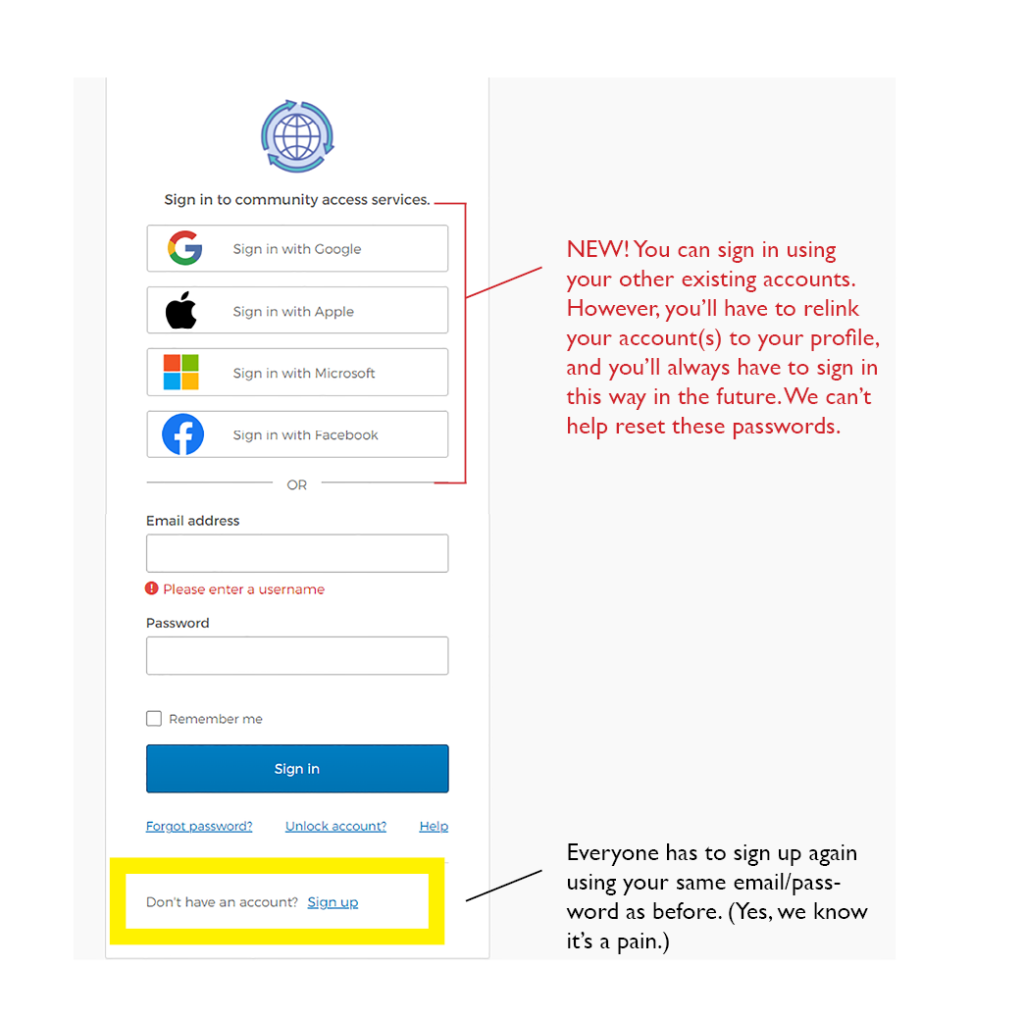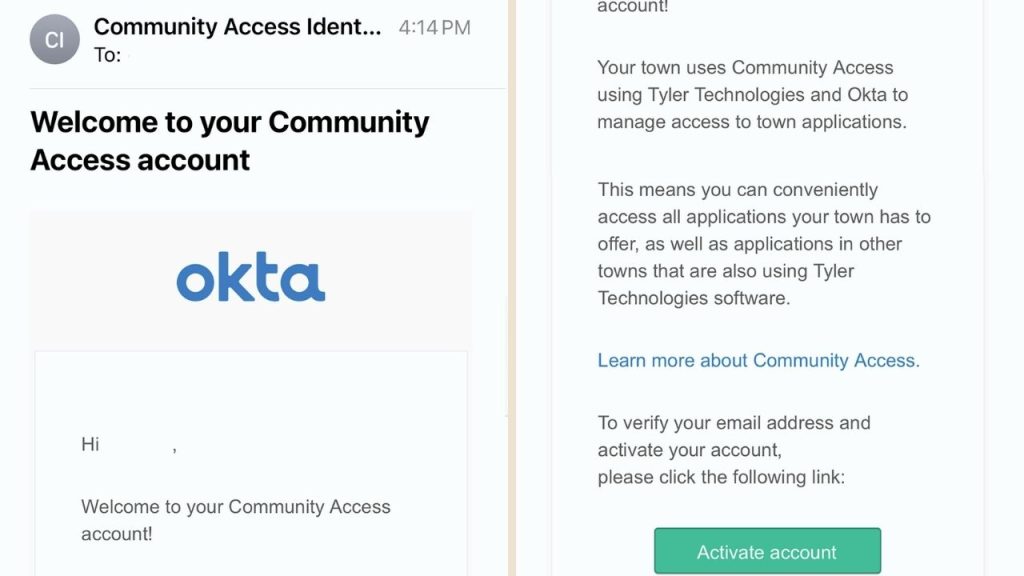 MORE INFO
This update was more about the back-end of the system, improving security of your information. While important; unfortunately, you won't see much improvement on the functionality of the online utility bill pay yet. Our vendor has assured us that those will be fixed in Update 2.
UPDATE 2 – TENTATIVELY SCHEDULED FOR EARLY 2022
This is the update to the Resident Access features that we're told will greatly improve the online customer pay experience, including new features like scheduled payments, recurring payment, service request, storing credit card numbers for future payments, and well, actually working well.
Once our vendor completes this second update, you'll have to re-register AGAIN and re-link your utility bill accounts to your profile. 
Frequently Asked Questions
We understand. We demanded that the vendor find some sort of work around to reduce these steps, but it just doesn't exist. This is why we're telling you about the two-step process now. If you'd like to just wait until the second update in a few months, you always have the option to pay by check in the mail, via the utility bill slot at City Hall or in person at City Hall or Nicholson's. Then, you can wait re-register once after the second update.
No, that's not an option. The part you're seeing online is just a small fragment of a multi-year, major upgrade of our entire financial software, running our budget, accounting, payroll, online permits, etc. While we're seeing some growing pains with our new system, we're benefiting from a more secure and safe technology environment.
When we finally had to convert our antiquated financial software, we went for the newest and best software offered. For years, customers have been asking for features like scheduled bill pay and recurring bill pay. To get that, we are one of the first cities in the nation to use this vendor's newest system. Unfortunately, that also means that we're the ones finding all the bugs in this new software. There are many, many more of those bugs than we anticipated.
Also, by being early adopters of this new system, we get a dedicated support team available 24/7 to the city. Normally, you're waiting in some sort of queue line with other cities to get assistance. (Have you ever been on hold, hearing you're the 32nd caller in line? Something like that.)
We realize the past year has been difficult with online utility bill pay. If we had known it would be this rough, we may have made different choices initially. However, it seems with a little more effort, we're hopefully reaching the improved system we initially sought. 
Make sure you are using the new website. Old bookmarks remaining on your personal browsers may still lead you to the old system (before February 2021).
Make sure to input your name as all Capital letters; last name first, then the comma, then a space, then the first name (followed by a space, the & sign, another space, and the other person's first name if it is a joint account). Examples:  SMITH, JOHN or SMITH, JOHN & JUDY
Your statements will be sent via mail as the default. If you would like to have your statements emailed, you will need to change your billing preferences, once they have successfully logged in. 
This system uses a two-step process. You register an online profile and then you connect your account(s) to your profile. Why? Some of our customers pay multiple accounts or change accounts if they move within Sumner.
How to Register a New Online Profile
Have your paper bill in front of you.
Select Pay Bill Online button (above). This will take you into the new Tyler system.
Click Citizen Self Service.

Select Sign Up to register a new account. After you've registered once, this will be the screen you use to log in.
You may use alternate accounts like Google or Facebook to register. Keep in mind, whichever form you choose will be the way you have to log into your account in the future. Also, we can't help you reset any lost passwords for a third-party account such as Google or Facebook. 
If you chose a third-party account to register, skip down to how to link your account.
If your chose to register a profile within this system, using Sign Up, you'll enter a screen to add your Email, First Name, and Last Name. Then enter the Password you wish to use and enter it again in the Confirm Password field. Please note: the password must be between 8 and 30 characters; contain a lower-case character, contain a number, and contain a special character. Keep track of your password for later use.
When all the information is filled out correctly, click the REGISTER button.

You will receive a confirmation email from "Community Access Identity." Please verify your account. If you don't see the email right away, check your junk folder.
Use your new login (email) and password to enter your profile.
How to Link Your Account(s) to Your Profile
Enter the Account Settings page. Under Utility Billing, click "Link to an account." (The section for Customer Billing will be used later for paying online permit fees. Just ignore that area for now.)
You will need your Account ID, Customer ID (CID) and Customer Name as it is presented on the new paper utility bill enclosed. This information is a bit different than how it appeared on an old bill. Be sure to enter personal names as LAST NAME, FIRST NAME.


Once you click "Submit," you should see the account linked to your customer page. Click on the number to go to the Account Summary Page where you can pay your bill and manage your preferences.
MORE TIPS:
The benefit of this new system is that you can link multiple accounts to one customer and pay them all at once.
You will need to manage your billing preferences. If you only received an email from us before, you will have to select that option again as this is a completely new system. Otherwise, it will revert to sending you paper bills. We will have more tutorial videos on setting preferences soon.
If you have trouble, unfortunately, we can't walk you through the process in person as we are still restricted from in-person visits per the State's Safe Start guidelines. We can talk to you on the telephone if you have any questions. Call us at 253-299-5546, Monday-Thursday 7:30 am – 5:30 pm and Friday 7:30 am – Noon.
Billing Questions:  253-299-5546
Questions/problems with your water/sewer line:  253-299-5740
For after-hours water/sewer emergencies, still call this number and press 0 when you hear the message.