Starting June 1, 2022, the completed version of our new online utility bill pay system is available. The button link is a different web address (url) from the previous interim system. And, the experience is much, MUCH better. This is what we've been waiting over two years to provide with options like quick pay, schedule a payment and auto bill pay.
Helpful Hints
Customers Already Paying Online
It is a new web address (URL) from the interim system we had up until May 27. That means if you rely on bookmarks, you'll have to update your bookmark to access the new system. We can't update your individual browser bookmarks for you.
If you've been using the interim system, you do not need to register again (thankfully). You do have to relink your accounts. Have available your customer number and your account numbers. For many, these are the same. For some, they are different numbers. You can access both from your paper bill. In the image below, Customer Number is circled in red and labeled A. Account number is circled in green and labeled B.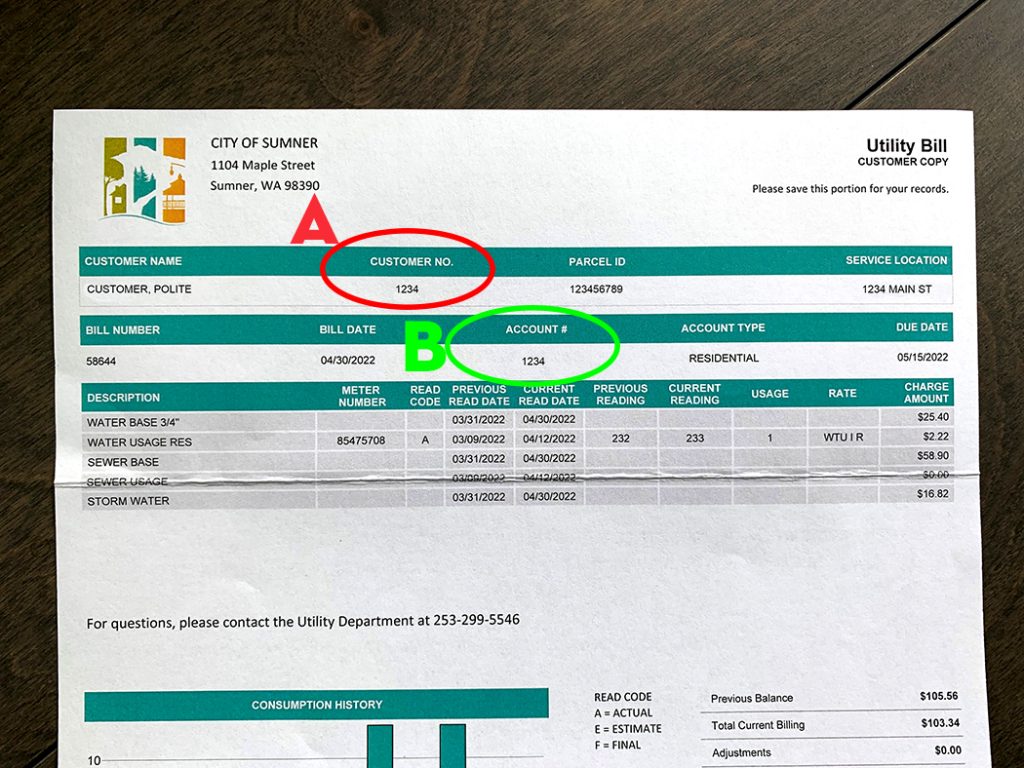 Customers New to This Online Bill Pay
If you gave up trying to pay online during the interim system, give it a try again with this new version. To register your account, enter your information from your paper bill.
Please note: you must enter your name as it appears with last name then first name. So, in the example shown above, you'd enter "Customer, Polite" instead of "Polite Customer."
You may also register using existing accounts such as Google or Facebook. If you choose these options, keep in mind if we can't help you if you forget those passwords as they're out of our system.